Pristine Chilled Power
The ROG Strix 850W White Edition PSU features sleeved modular cables, a variety of decals, and is dressed to compliment the aesthetics of a white gaming rig. Massive ROG heatsinks trickle down from the mighty ROG Thor series and Axial-tech fan design from our premium NVIDIA RTX™ graphics cards also make an appearance. Below the surface, low RDS (on) MOSFETs and premium Japanese capacitors take on power delivery with ease. The result is an incredibly quiet and efficient power supply with the reserves to handle the most intense gaming scenarios.
COOLING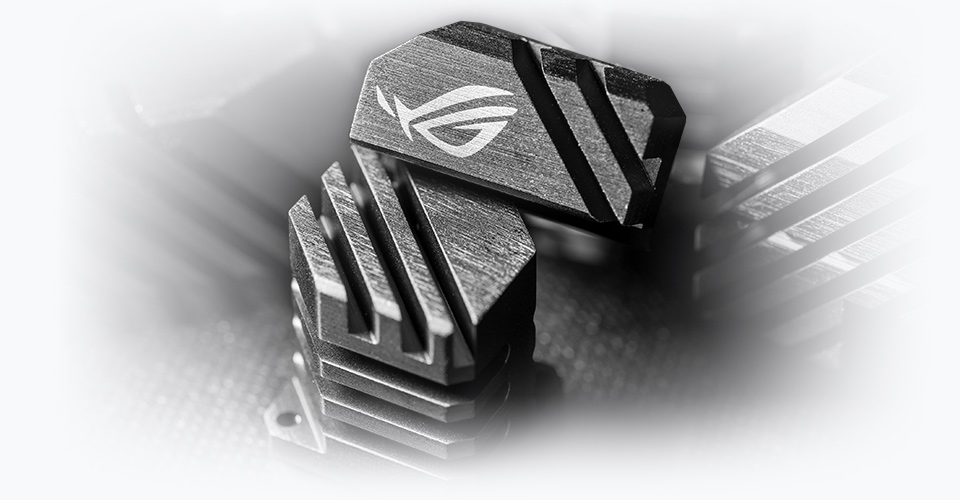 ROG Heatsinks
Let it sink in
The integrated ROG heatsinks have 2x more volume than traditional designs, resulting in significantly lower temperatures inside Strix PSUs. This extends the lifespan of components and allows 0dB operation for a longer duration than standard designs. The heatsinks are so effective that fan noise stays whisper quiet, even under full load.
ENGINEERING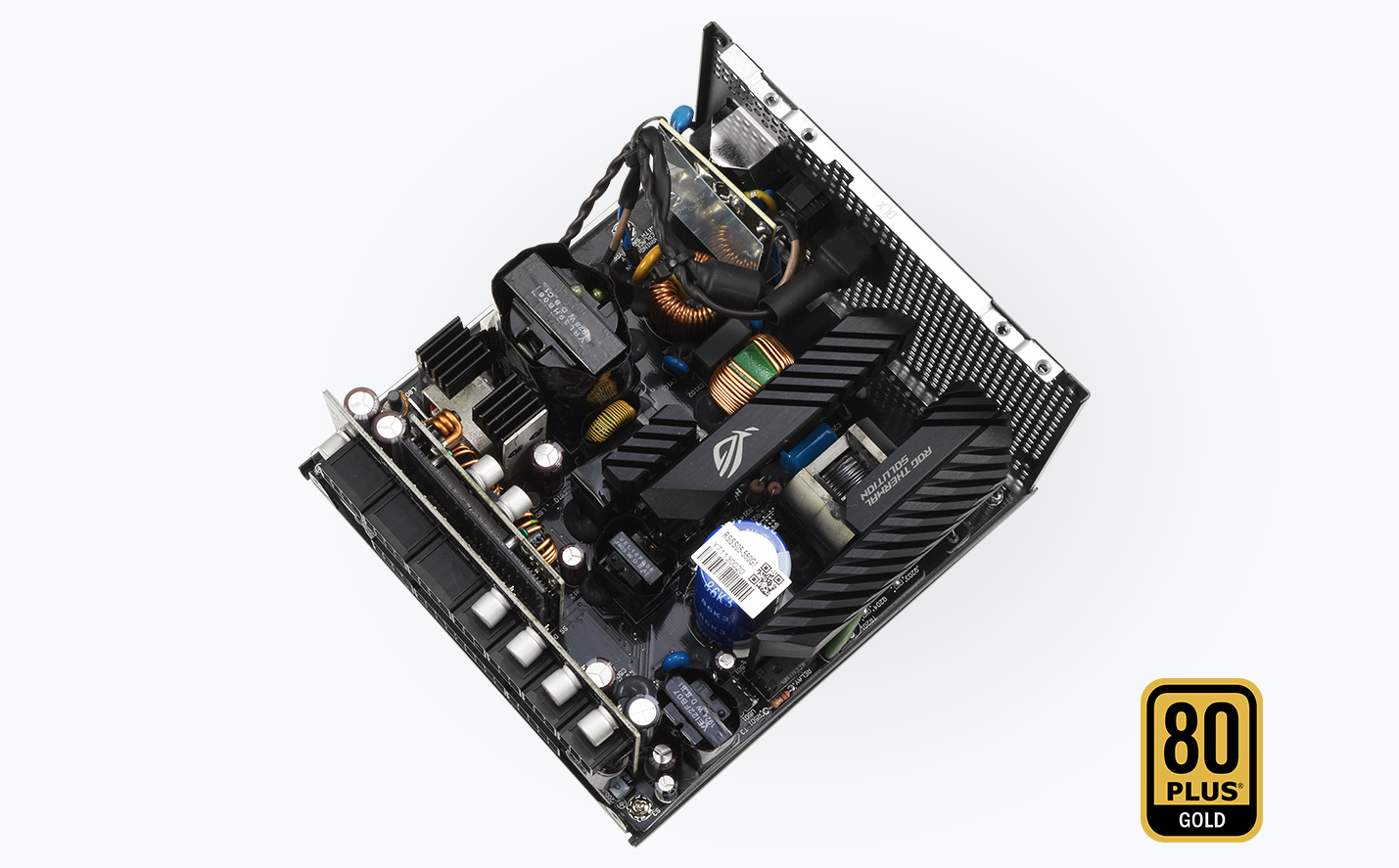 80 Plus Gold Certification
Heart of gold
Top-end Japanese capacitors ensure efficient operation and have helped the Strix earn an 80 PLUS Gold certification. The increased efficiency also results in less heat, reducing noise and increasing reliability.
EXPERIENCE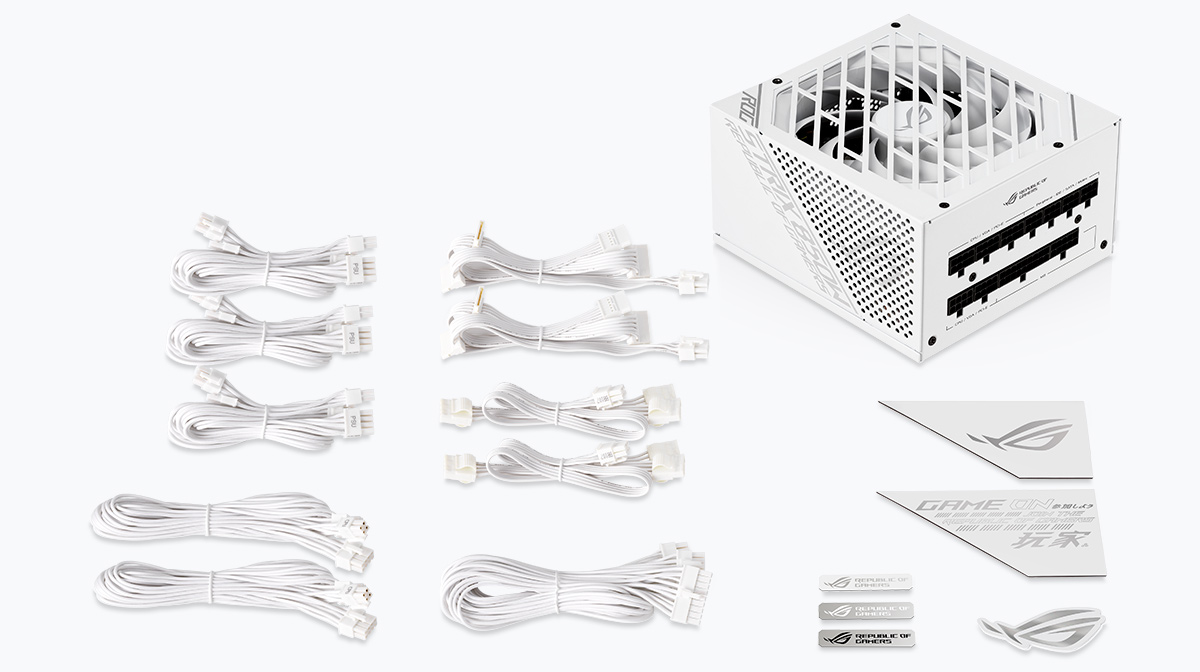 White Edition Design
Tabula rasa
White components can easily achieve a clean aesthetic or adopt ambient RGB colors for greater customization than their darker or painted counterparts. With a white case, modular cables, stickers, and magnets, this white edition PSU is a perfect fit for any white gaming rig.
Specifications
Intel Specification
ATX12V
Dimensions
16 x 15 x8.6 Centimeter
Efficiency
80Plus Gold
Protection Features
OPP/OVP/SCP/OCP/OTP
Hazardous Materials
ROHS
AC Input Range
100-240Vac
Thermal Features
ROG Thermal Solution
Fan Size
135mm
DC Output Voltage
+3.3V +5V +12V -12V +5Vsb
Maximum Load
20A 20A 70A 0.3A 3A
Combined Load
100W 100W 840W 3.6W 15W
Total Output
850W
Connectors
MB 24/20-pin x 1
CPU 4+4-pin x 2
PCI-E 6+2-pin x 6
SATA x 8
PERIPHERAL x 6
Package Contents
Power Cord x 1
Motherboard Power Cable x 1 (610mm)
CPU Cable 1000mm x 2 (1000mm)
PCI-E Cable x 3 (675mm)
SATA Cable x 2 (810mm/860mm)
Peripheral x 2 (450mm)
ROG badge x 2
ROG logo magnet x 1
ROG label x 3
Weight
Single Card (KG) : 1.825
Product Weight (with packing) (KG) 3.42
Warranty
10 Years
Note
***Features, Price and Specifications are subject to change without notice.