WIDE AND STURDY CHASSIS DESIGN
Featuring a chassis design focused on delivering increased interior space, you now have more freedom and possibilities to customize your PC how you want.
With more room for your graphics card, coolers and fans, and even your motherboard, the Cronus will allow you to fully maximize the performance of your PC build.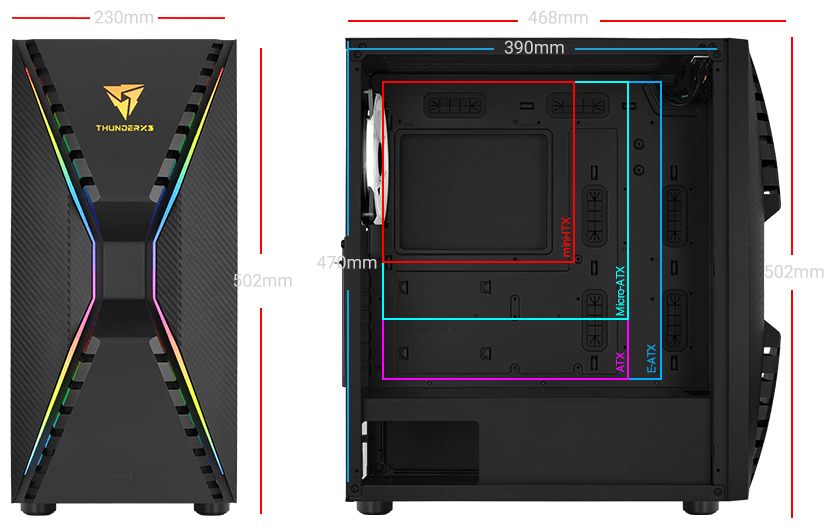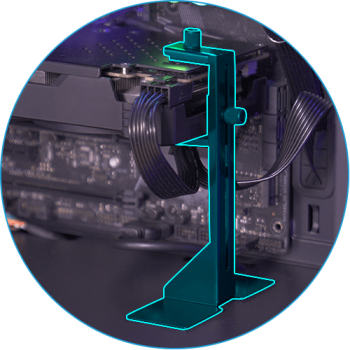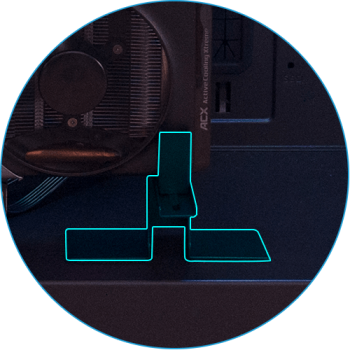 DESIGNED FOR OPTIMAL GRAPHICS CARD INSTALLATION
Built with three additional vertical expansion slots, allowing you to install your graphics card at a vertical position.
Includes a GPU bracket that keeps your graphics card stable and secure while preventing it from sagging.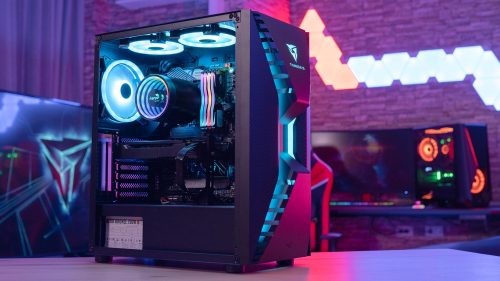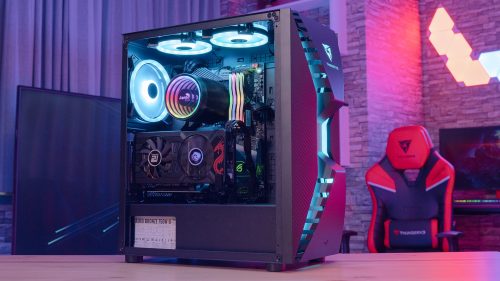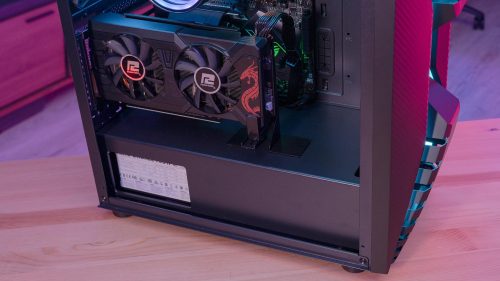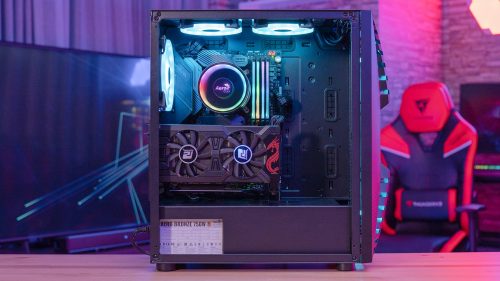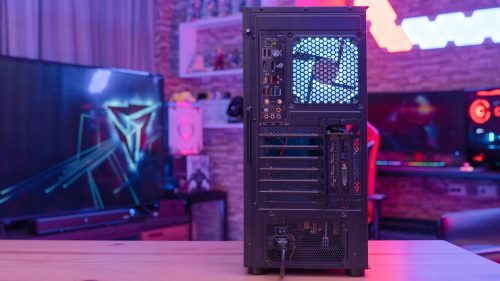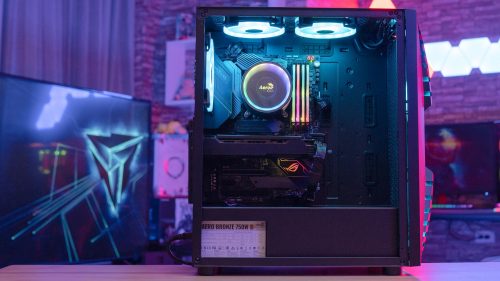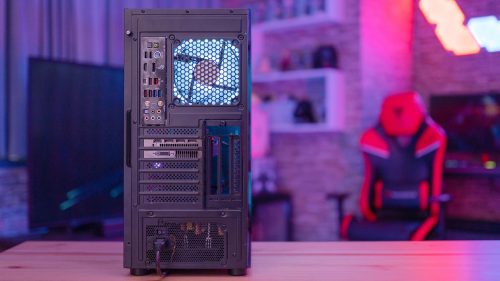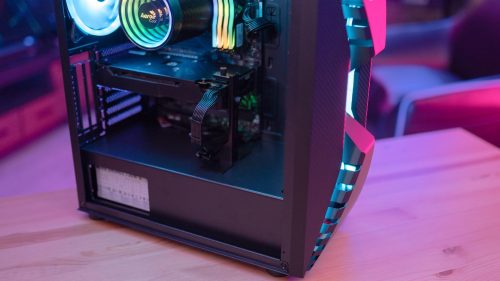 ADDRESSABLE RGB COMPATIBLE
Access 16.8 million colors using compatible ARGB motherboards including ASUS Aura Sync, MSI Mystic Light Sync, and Gigabyte RGB Fusion (with 5V 3-Pin ARGB header).
Addressable RGB can be controlled using any of two ways: LED control button or ARGB motherboard.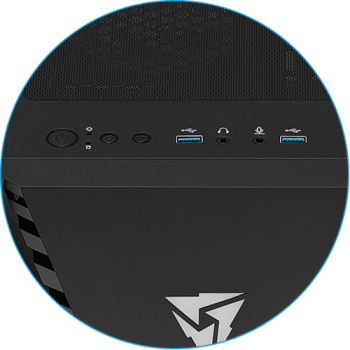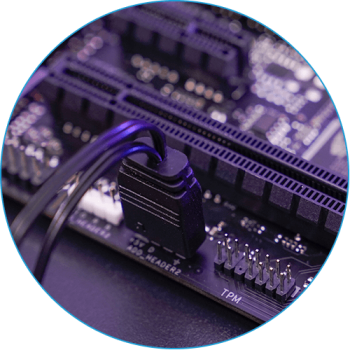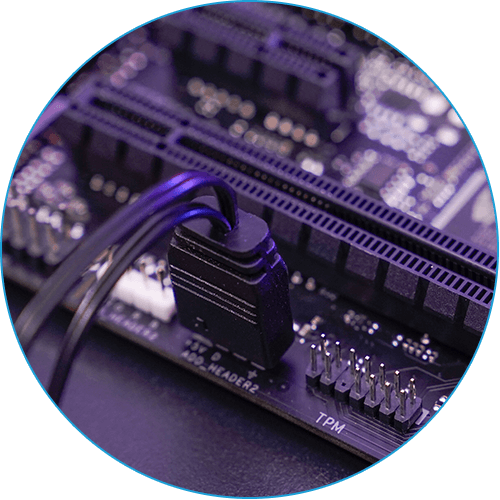 6-PORT RGB CONTROL HUB
Features a 6-port hub with PWM control functions and allows you to connect up to six 6-Pin AeroCool Addressable RGB fans and up to two 3-Pin Addressable RGB accessories with +5V ARGB connector.
Motherboard connector supports Addressable RGB motherboards (Asus Aura Sync, MSI Mystic Light Sync, and Gigabyte RGB Fusion).
PWM COMPATIBILITY
Please check if the 4-Pin fan header on your motherboard is PWM compatible.
• PWM based – PWM compatible
• Voltage based – not PWM compatible
For more information, refer to our PWM Compatibility Guide
.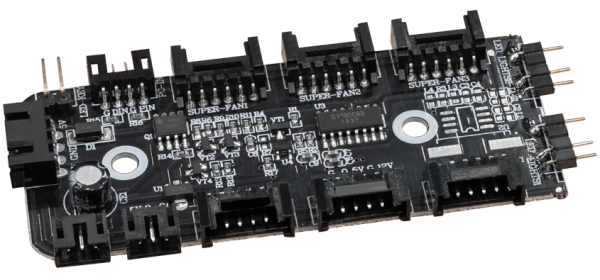 ONE 14CM ADDRESSABLE RGB FAN INCLUDED
Comes equipped with one 14cm Addressable RGB fan in the rear of the case to add a stylish flair to your rig.
ARGB fan can be controlled using LED control button or ARGB motherboard.
STYLISH RGB FRONT PANEL DESIGN
Featuring a X-shaped RGB LED front panel design, this case delivers a dynamic yet powerful look and feel to your gaming setup.
Bring your case to life with preset lighting modes that can be readily controlled via an LED control button.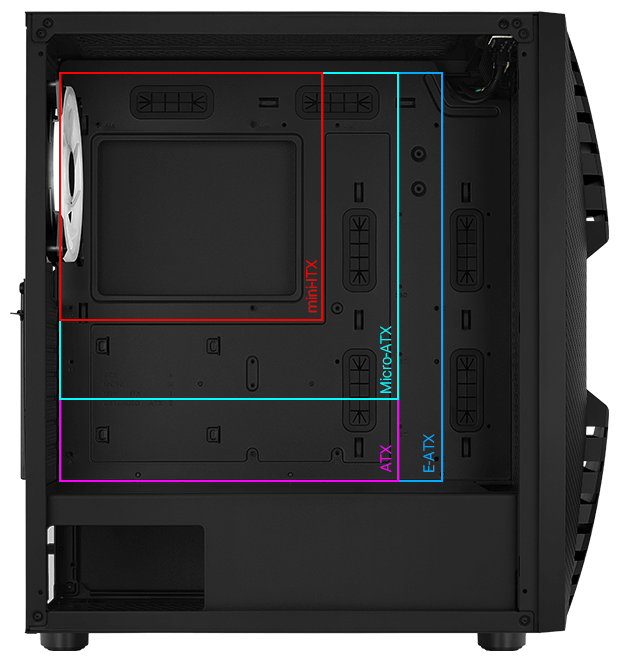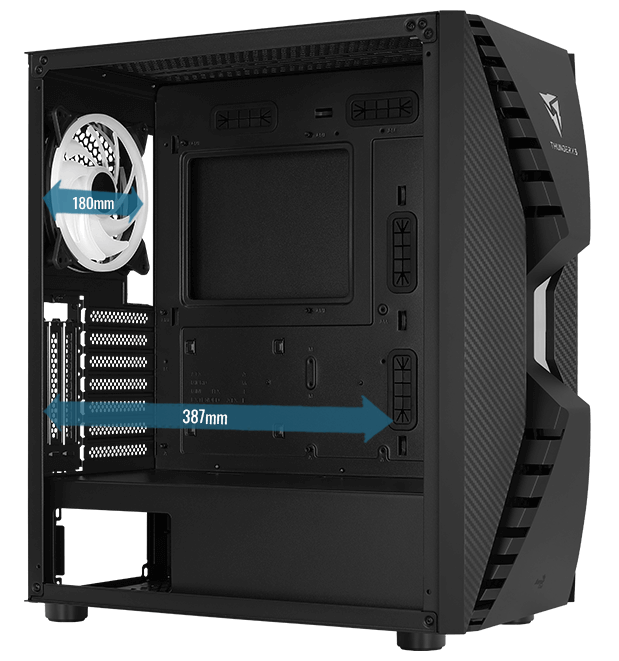 E-ATX MOTHERBOARD SUPPORT
With support for E-ATX motherboards, this mid-tower case is built for maximum performance.
BUILT FOR HIGH PERFORMANCE
Supports E-ATX, ATX, Micro-ATX, and Mini-ITX motherboards
Supports CPU coolers up to 180mm
Supports high-end graphics cards up to 387mm (without front radiator)
EFFICIENT CABLE MANAGEMENT
Comes equipped with six rubber cable grommets and two cable passthrough tubes (includes two additional tubes) on the motherboard tray to keep your cables neat, tidy, and secure.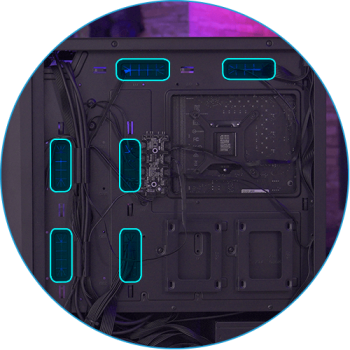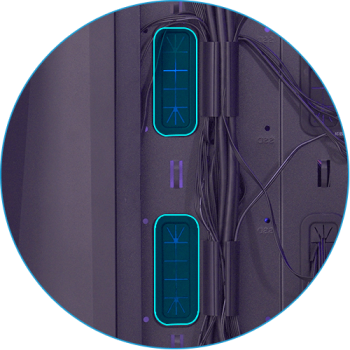 FULL TEMPERED GLASS SIDE PANEL
Comes equipped with a full tempered glass side panel to showcase the inside of your rig while putting your components on full display.
IMPROVED AIR VENTILATION
Air vents in the front panel increase airflow and ventilation to keep your system cool.
AIR COOLING
Supports air cooling in the front, top, and rear of the case to enhance cooling performance
Front: 120mm x 3 or 140mm x 2 (Max.)
Top: 120mm x 2 or 140mm x 2 (Max.)
Rear: 120mm x 1 or 140mm x 1 (140mm ARGB fan x 1 included)
LIQUID COOLING
Supports liquid cooling in the front, top, and rear of the case for maximum efficiency cooling.
Front: 120/240mm Radiator (Optional)
Top: 120/240mm Radiator (Optional)
Rear: 120mm Radiator (Optional)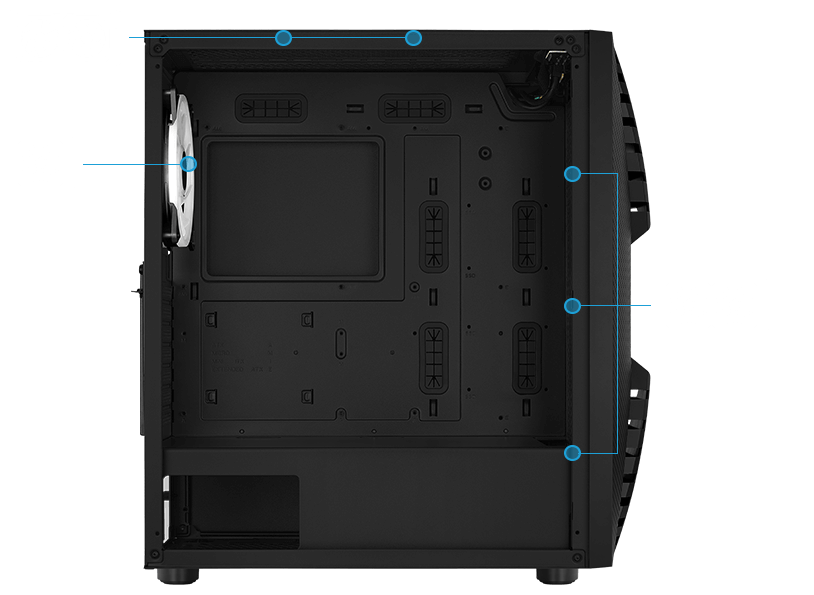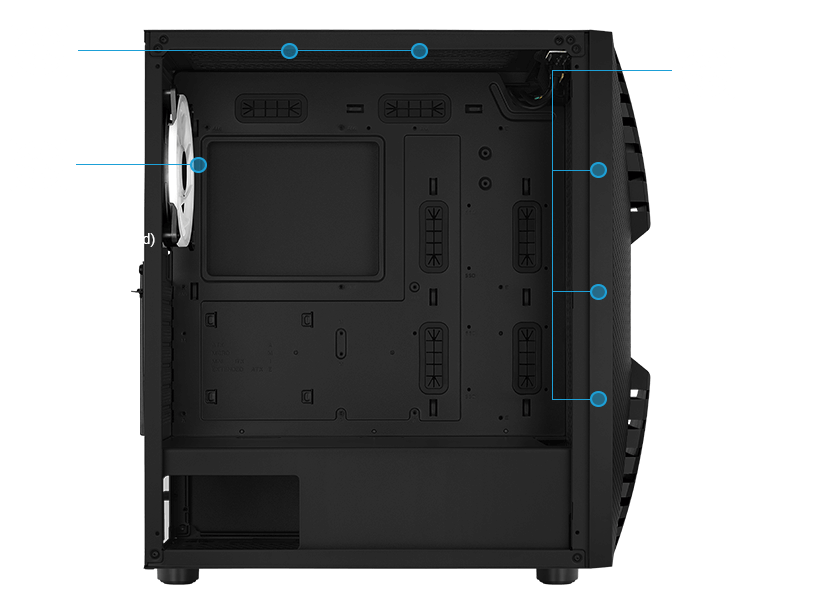 CONVENIENT ACCESS TO YOUR MEDIA
Quick and easy access to LED control button, 2 x USB 3.0, HD audio and mic ports, and power & reset button.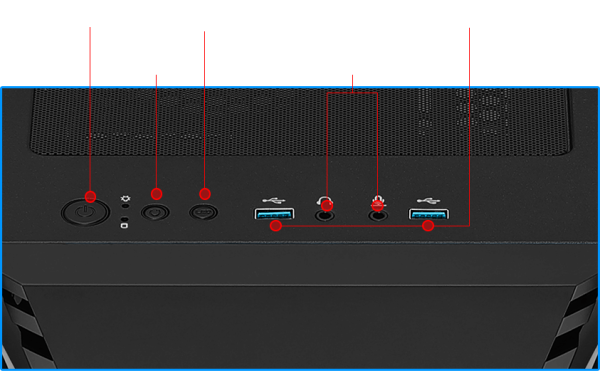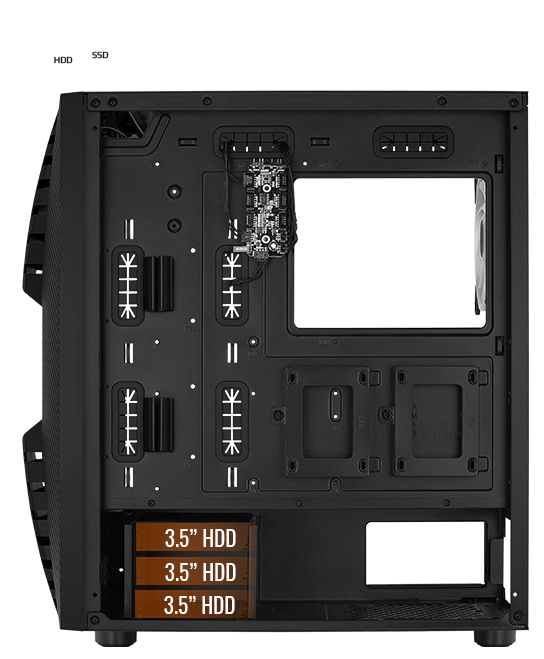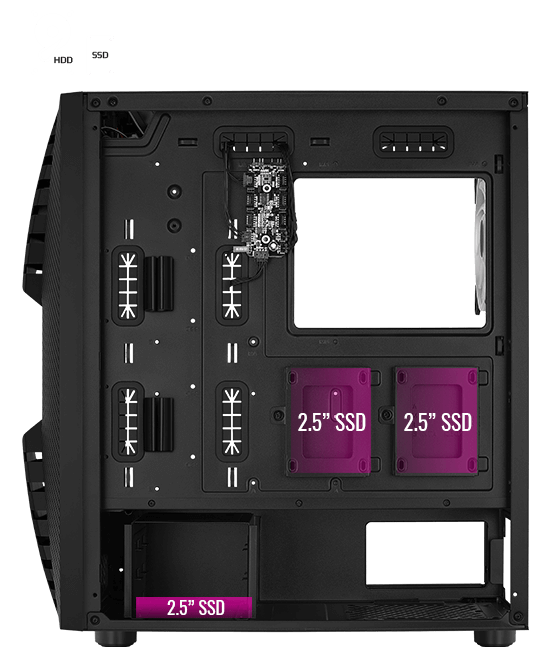 STORAGE CAPABILITY
Supports up to 3 x 3.5" HDDs (2 x 3.5" and 1 x 3.5"/2.5″) and 5 x 2.5" SSDs (4 x 2.5" and 1 x 2.5"/3.5").
EASY MAINTENANCE
Comes equipped with removable dust filters for convenient cleaning and maintenance.
Specifications
Model
Cronus-G-BK-v1
Case Type
Mid Tower
Color
Black
Body Material
SPCC
Front Panel Material
ABS + Steel
Steel Thickness
0.7mm
Motherboards
E-ATX/ATX/micro ATX/mini-ITX
Case Dimensions (Internal)
230 x 470 x 390mm (W x H x D)
Case Dimensions (Overall)
230 x 502 x 468mm (W x H x D)
3.5" Drive Bays
3 Max. (2 x 3.5" and 1 x 3.5"/2.5″)
2.5" Drive Bays
5 Max. (4 x 2.5" and 1 x 2.5"/3.5")
Expansion Slots
7 + 3
GPU Clearance
Supports GPU up to 387mm (without front radiator)
CPU Cooler Clearance
Supports CPU cooler up to 180mm
Air Cooling
Front: 120mm x 3 or 140mm x 2 (Max.)
Top: 120mm x 2 or 140mm x 2 (Max.)
Rear: 120mm x 1 or 140mm x 1 (140mm ARGB fan x 1 included)
Liquid Cooling
Front: 120/240mm Radiator (Optional)
Top: 120/240mm Radiator (Optional)
Rear: 120mm Radiator (Optional)
I/O Ports
USB3.0 x 2 | HD Audio & Mic.
Internal Cable Management Depth
26.55mm
Power Supply
ATX PSU (Including cables, up to 223mm) (Optional)
EAN Code
4710562758931